WELCOME TO
SUBURBAN ISLAND!
'But what happens when you come to the beginning again?' Alice ventured to ask.
ABOUT ME
profile
49 things
island dolls
trading card
favorite reads
my kind readers

COMMUNICATE
IMAGES
fotolog
buzznet
webshots
Flickr
ISLAND TREASURES
bookshelf
Friday Finds
Friday Fives
little island weblog
radio suburban island

LINKS
MEMBERSHIPS
the spark
mommies
mama clique
pieces of you
the 100 books club
random acts of journaling

QUIZZES
volume I
volume II
volume III
volume IV

RINGS
rings I love
join Friday Finds ring
join paris ring
join fotolog ring
join moblogging ring
join suburbanlife ring
join Suburban Island ring (run by spritopias)

Click here to read how this page is protected by copyright laws.
© all content 2002, 2003, 2004, 2005
Suburban Island
RIGHT NOW
,
Alice on Today:

'But everything's curious today.'

TODAY'S COFFEE:
Northwood Latte.
OBSERVING:
THINKING:
Really, how I am going to get all this work done today?
READING:
SPINNING:
WATCHING
DAILY DOSE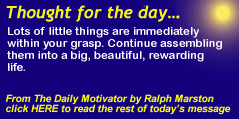 YESTERDAY WAS ANOTHER STORY
JUST READING
JUST SPINNING
RECENTLY OBSERVING:
A kid sitting in the school clinic ready to be signed out for the day.
Tiny snowflakes in the air cover the ground like sifted sugar.
Chipmunk races in my garden.
A quiet house.
A suitcase to be unpacked.
Non-stop rain.
Sleepover fallout.
Kids still at home.
2 feet of snow - give or take a few inches.
Snow - it's everywhere.
Half-eaten bowls of Cherrios left in the sink for me.
Wind bending branches and pushing clouds by.
Just sunshine and more sunshine.
Fat snowflakes floating past my window.
Low grade temperature readings.
Snow and possible strep throat symptoms
Flu symptoms
Snowboard websites
RECENTLY THINKING:

RECENTLY WATCHING

On Video...
Fox Special: The Michael Jackson Interview: The Footage You Were Never Meant to See
0 comment(s) | previous | next
Add the Isle to your D-Land favs | Visit Little Island - the Suburban Blog
Visit Perfect View - The Scenic Webcam Blog
Random Isle Entry